What is Alzheimer's Disease?
A progressive, irreversible brain disorder, Alzheimer's is the most common cause of Dementia – a syndrome that influences mental cognitive abilities like, reasoning, behavioural, and thinking. It affects a person's capability to function independently, slows down memory and the ability to perform simple tasks. The onset of Alzheimer's is marked by a degeneration of brain cells and difficulty in recalling recent events.
What is the difference between Alzheimer's and Dementia?
Dementia is the broader umbrella under which Alzheimer's falls.
Dementia is a syndrome or a host of symptoms that hamper independent daily cognitive functions like reasoning and memory. With no absolute diagnosis, it affects the functioning of neurons responsible for transferring messages from the brain to the organs and back. There are several conditions that lead to Dementia, like Alzheimer's disease and Vascular Dementia.
Common causes of Dementia are said to be –
Infections like HIV
Vascular diseases
Depression
Stroke
Extreme drug usage
We can even say that Dementia is the next stage of Alzheimer's and 50-75% of times Alzheimer's has been seen to progress into Dementia, especially, in older adults.
The symptoms of Alzheimer's can be controlled whereas Dementia is fatal and the research for diagnosis continues.
What are the warning signs or Alzheimer's Disease symptoms?
The most prominent symptom of Alzheimer's is memory loss, and as it advances the condition of the brain degrades (Severe Alzheimer's). Let's look at some of the common symptoms that may indicate Alzheimer's.
Mild Alzheimer's – the person may seem to be relatively healthy but has difficulty making sense of the world around.
Elevated anxiety, personality, and mood issues
Memory loss and inability to recognize familiar places
Repeating questions and poor decision-making skills
Trouble dealing with numbers, like handling money and paying bills
Moderate Alzheimer's –This is an alarming progression, and includes symptoms like
Inability to comprehend language and words – reading and writing impairment
Increased illogical thinking
Delusions, paranoia, and hallucinations
Agitation, anxiety, and restlessness
Muscle twitches and inability to multitask
Reduced attention span
Severe Alzheimer's – Majorly characterized by a person's inability to perform any task by themselves.
Skin infections
Seizures
Loss of bladder control and bowel
Weight loss
nability to swallow food
How does Alzheimer's affect the brain?
Alzheimer's affects the ability of the neurons to communicate with the organs and vice-versa. This miscommunication leads to all the dysfunctionalities that develop into Dementia. The major factors that affect the brain are amyloid plaques and neurofibrillary tangles – don't be afraid of the fancy names, let's understand both –
Plaques or Amyloid plaques – they are toxic protein clumps that stick in between two neurons and interfere with the normal cell functioning.
Tangles or Neurofibrillary tangles – The abnormal accumulation of a protein called 'tau' inside the neurons leads to the formation of neurofibrillary tangles. Usually, tau helps guide the transfer of nutrients in the neurons. However, in Alzheimer's the disturbed chemicals detach tau from neurons and entwine to form tangles.
As the level of plaque increases, tau spreads in the brain region responsible for memory. This complicated interaction is responsible for all the brain changes in the Alzheimer's disease.
Breakthroughs in Alzheimer's Research
The Alzheimer's Big Bang – Research led by scientists at the UT Southwestern University have related the onset of Dementia with the toxic tau protein formation – opening new gates for treatment before significant symptoms takeover.
Artificial Intelligence and Alzheimer's Diagnosis – The researchers at Stanford University have proposed the usage of a 3D Convolutional Neural Networks to get test results from MRI data samples. This is expected to diagnose Alzheimer's with an accuracy of 94.1 %.
Detecting Alzheimer's with eye scan – Duke University's researchers suggest using eye-scanning as a viable source for increasing the detection of Alzheimer's in patients.
Antidepressants can delay the progression of Alzheimer's – The antidepressant, selective serotonin reuptake inhibitor (SSRI) can delay the growth of amyloid plaques in the brain; according to the researchers at the University of Waterloo. Though the study is progressing, it promises further direction for Alzheimer's treatment.
What can be done to prevent Alzheimer's?
In the absence of any proven diagnostics yet, it's believed that 99% times, AD symptoms are closely associated with brain inflammation, vascular function, and lifestyle choices. Taking care of these three factors is recommended Alzheimer's disease treatment:
Exercise
Get good sleep
Follow a balanced diet
Learn new things
Avoid smoking
Reduce alcohol intake
More than 50 million people are living with Dementia around the world, as of 2018 – about 33 million of these have Alzheimer's. With a new case being reported every three seconds, the world's worried and investing in a wealth of research and technology to understand the reasons and cure for Alzheimer's in the hope to find a way around it.
4 safety products for Alzheimer's and Dementia patients:
A portable device that fits on a keychain personal alarm with torch by Juvo sounds a 120-decibal alarm for up to 11/2 hours when its cord is pulled. The device is easy to use and is ideal for drawing attention if you need help. Perfect for walking, driving and more, its built-in white LED light helps you see with the touch of a button.
Portable device
Can work for up to 11/2 hours when its cord is pulled
Ideal device for security purposes
Built-in LED light to enhance visibility
The GPS-enabled smart personal security device with an SOS button, TigerTech's Personal SOS Tracker is a wearable personal safety device designed to send instant emergency alerts to your friends and family discreetly, even if you don't have a cell phone. The device evokes a feeling of confidence and independence and lowers anxiety levels, especially amongst people suffering from Dementia.
Key Features:
Helps you track your loved ones in real time
Protects you in case of a fall or in case of a medical emergency
Uses real-time tracking by leveraging Triple Mode Positioning Technology (GSM + LBS + WiFi)
Keeps you informed in real time with location updates as often as every 1 minute or less
A personal safety device that allows you to monitor your health. The GPS Smartwatch is equipped with an SOS Button, GPS tracker, heart rate and BP monitor, fall sensor, etc. This device is the most compact personal safety and health monitoring device in India. The GPS allows you to track the location of your family members using your smartphone. The SOS button allows to send emergency alert notification to your family members and automatically dials a voice call to the pre-saved emergency numbers.
Key Features:
High definition touch screen display
IP-65 Waterproof rating
Long lasting in-built Lithium battery
SIM Card slot for all GSM 2G/3G Sim Card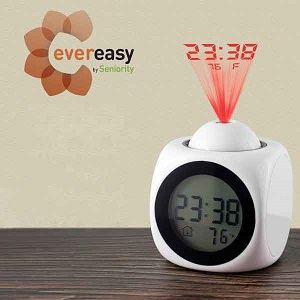 Equipped with a projector that creates an enlarged image of the time on any suitable background, most commonly the celling of your room, the talking clock with projector by Seniority is ideal for individuals that have auditory impairments, dementia or suffer from hazy and blurry vision. It also projects the temperature of your surroundings on its display.
LED time projection
Time speaker
LED display
Temperature display